AMCO implements the AVL/PIS and AFCS projects for Xanthi, Komotini and Alexandroupolis City Bus Operators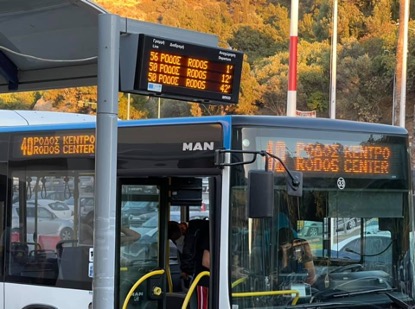 The implementation of the AVL/PIS and AFCS systems for the city bus operators of Xanthi, Komotini and Alexandroupolis cities, has been awarded to AMCO.

The projects objectives include:
• The supply, installation and parameterization of an integrated AVL/PIS system, which will provide up to date real-time information to the passengers and will allow the operators to manage their daily operation, through an advanced web-based system.
• The supply, installation and parameterization of an automatic fare collection system, which will introduce smart cards and QR code tickets, will provide central ticket-management, as well as equipment and software for issuing, recharging and validating smart cards and QR Code tickets (paper and mobile).
The equipment to be procured, installed and commissioned by AMCO includes driver consoles with ticket printer, smart card reader (EMV ready) and QR Code reader, on-board TFT displays, LED and LCD (powered by solar panels) bus stop displays for the reliable and timely information of the passengers, POS for issuing and recharging smart cards and automatic ticket vending machines for selling/recharging smart cards.
Passengers will be able to receive accurate and real time information about the bus arrivals, through bus stop displays, web and mobile applications.

The AFCS will provide a variety of payment methods to passengers, as well as fast and secure transactions. It will ensure great reduction of revenue loss, with full financial transparency, combined with accurate reports.
The projects are expected to significantly increase the quality of services provided by the city bus operators, to improve the quality of life of many thousands of residents and visitors, as well as to protect the environment.